Characteristics of users of GetCheckedOnline, British Columbia's digital STI testing service
Research theme(s)
Digital Health
 Aidan Ablona,1,2 Rayka Kamru1,2 (Presenting Author), Hsiu-Ju Chang,1,2 Devon Haag, 1,2 Heather Pedersen,1,2 Mark Gilbert.1,2 
26th Congress of the World Association for Sexual Health November 2-5, 2023, Antalya, Turkiye.
INTRODUCTION:   
GetCheckedOnline is a free, digital testing service for sexually-transmitted and blood-borne infections (STBBI) in British Columbia, Canada operated by the BC Centre for Disease Control (BCCDC).

 

The service works by allowing users to answer sexual history questions, have tests recommended, and then access a lab form online which is taken to a lab for specimen collection, and receive results online (if negative) or from a healthcare provider (if positive) who arranges treatment and care.

 

Testing for HIV, syphilis, chlamydia, gonorrhea and Hepatitis C is available.

 

The service first launched in 2014, and is highly valued for its convenience, anonymity and control over testing.

 

GetCheckedOnline is now available in 8 cities across the province, with the number of people using the service continuing to increase.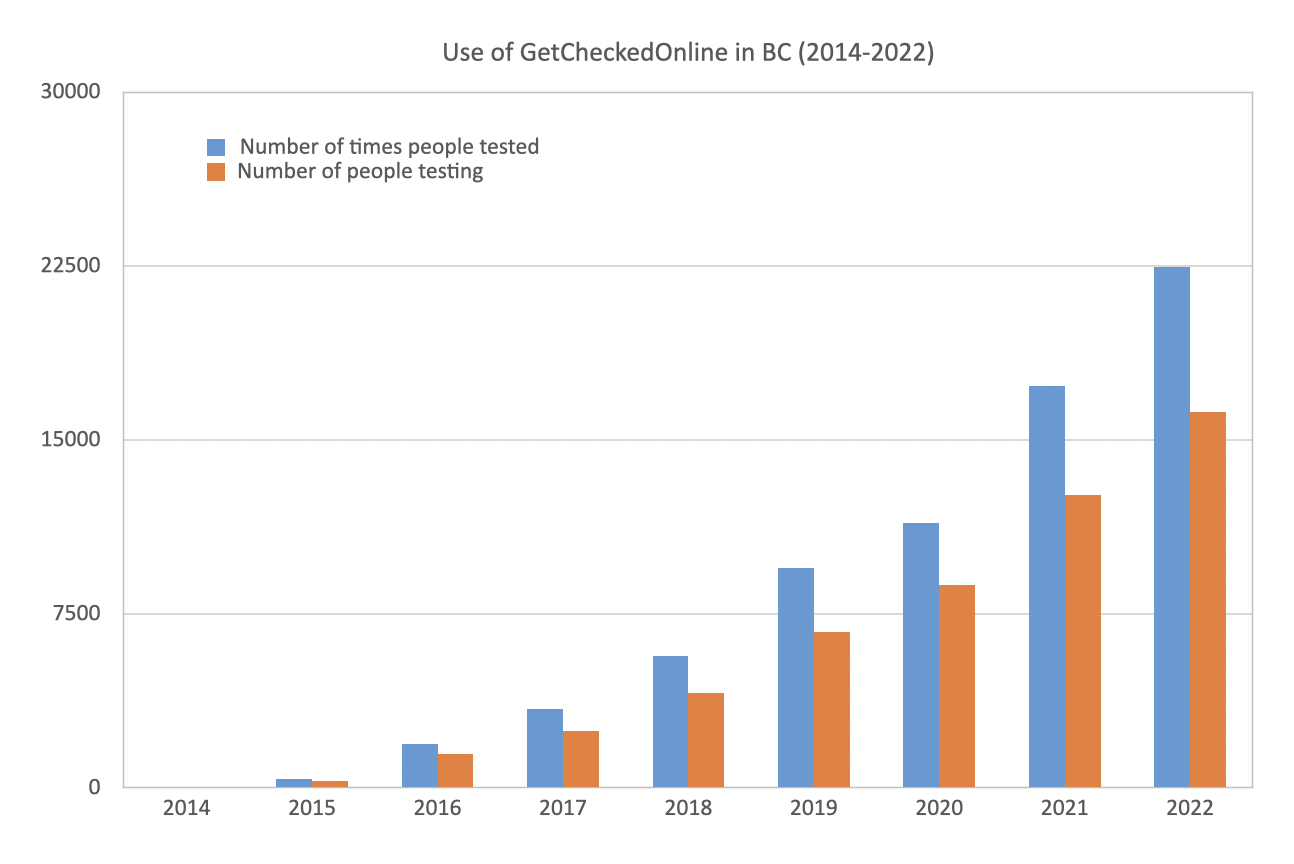 OBJECTIVE:   
One of the program objectives for GetCheckedOnline is to increase the uptake of testing among populations that face barriers to accessing testing in BC.

 

In this project, we aimed to describe the sociodemographic and behavioural characteristics of people using the service at its current level of implementation to assess how well this program objective was being met

 
METHODS: 
We extracted routinely-collected program data provided by service users during account creation and risk assessments for all individuals testing through the service in 2022, and described the characteristics of these service users.

 

Ethics approval was not required as users consent to use of their data for program evaluation which is within the mandate of the BCCDC.

 
RESULTS: 
In 2022, 16,223 people tested through GetCheckedOnline:

28% were < 25 years, 57% were between 25-39 years, and 15% were 40+ years
52% were men, 45% were women, 3% were gender-diverse (including trans)
53% were White, 24% were people of colour, and 3% Indigenous (21% missing)
34% were heterosexual women, 34% heterosexual men, and 17% were homosexual or bisexual men

 

Many people testing through the service had ongoing risk factors for infection including condomless sex (50%), 3 or more sex partners in the past 3 months (21%) and 14% were diagnosed with an STI in the year prior to using the service.

 

45% of people testing in 2022 were using GetCheckedOnline for the first time. Approximately 1 in 5 people (22%) testing for the first time reported this was their first time ever testing for STI or HIV.