Completion of Mpox vaccine series among Two-Spirit and transgender people and gay, bisexual and other men who have sex with men in Vancouver, British Columbia
Research theme(s)
Vaccine
Mark Gilbert1,2, Aidan Ablona1, Hsiu-Ju Chang12, C. Sarai Racey2, Devon Greyson1, Troy Grennan1,2, Michael A. Irvine1,3, Travis Salway1,3, Monika Naus1,2, Meena Dawar1,4, Gina Ogilvie1,2.
1British Columbia Centre for Disease Control; 2University of British Columbia;  3 Simon Fraser University; 4 Vancouver Coastal Health.
Summit 2023, Nov 16-17, 2023, Vancouver, BC, Canada
BACKGROUND:
Completion of two-doses of Mpox vaccine is recommended for optimal protection for Two Spirit and transgender people and gay, bisexual and other men who have sex with men (2S/TGBM)
Previously we found a 51% of eligible 2S/TGBM clients of a Vancouver STI clinic had received one dose of Mpox vaccine 7-8 weeks after launch of the vaccine campaign, with uptake patterned on social gradients.
We conducted this study to assess the uptake of a second dose and completion of the two-dose Mpox vaccine series following introducing the second dose in BC.
METHODS:
Participants in our initial survey who consented to be part of a follow-up study were invited to an online survey in June 2023
Participants could enter into a draw for a $200 Visa gift card
Our outcome of interest was self-report of receipt of a second dose of Mpox vaccine, and we conducted bivariate analysis between this outcome and factors known to influence receipt of vaccines (antecedents of vaccination).
Participants living outside BC were excluded from the analysis.
Timing of Mpox and study-related events, BC, 2022-2023

RESULTS:
Sample description
745 baseline participants were invited of which 331 (44%) participated in the follow-up survey.
Of these, 150 (45%) completed the survey and identified as 2S/TGBM.
The median age of participants was 39 years, with the majority being White (60%), full-time employed (62%), identifying as a man only (81%) and gay (79%). Ten percent identified as Transgender.
One participant (0.7%) reported testing positive for Mpox since the baseline survey.
Vaccine uptake
128 (87%) were eligible to receive the Mpox vaccine.
Overall, 54% of all eligible 2S/TGM had received 2 doses of vaccine. Among those receiving a first dose, 66% completed the two-dose series.
Among the 34 eligible 2S/TGM participants receiving 1 dose only:

32% did not think they needed the vaccine
65% were willing or very willing to receive a second dose.
The main challenges reported for getting a second dose were not knowing where to go (35%) and challenges accessing vaccine clinics.

Three-quarters (74%) of those who had received two doses said they were likely or very likely in the summer of 2023 to have sex while travelling outside BC, or with someone visiting BC (compared to 24% with 46% having 0 and 1 dose, respectively).
Antecedents of vaccination: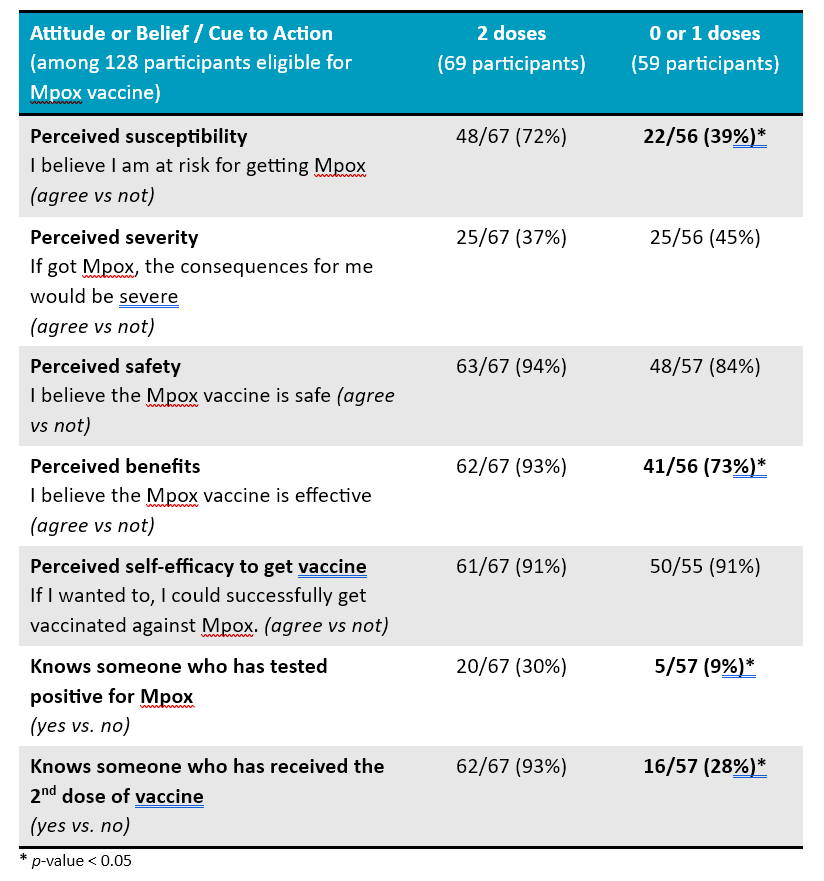 Vaccine awareness:
68% of 59 eligible 2S/TGBM who had received 0 or 1 dose were not aware that a second dose of vaccine was available.
Conclusion:
Two-thirds (66%) of participants had completed a two-dose series of Mpox vaccine, and of these 74% anticipated having travel-related sex in summer 2023 following the follow-up survey.
The uptake level of two doses of Mpox vaccine may have helped to prevent recurrences of Mpox in the Vancouver area.
However, this survey was conducted in a healthcare seeking population where uptake of Mpox vaccine is expected to be higher compared to the overall 2S/TGBM population.
Participants who hadn't received two doses were also likely to believe themselves to be at risk or the vaccine to be effective, and to know someone who had had Mpox or received a second dose.
Among participants who hadn't received two doses, awareness of the second dose was low, affirming the importance of continued promotion. Most were willing to receive the vaccine.
NB: Information about our baseline survey findings can be found here.
Acknowledgements & Conflict of Interest:
This study was funded by the Canadian Institutes of Health Research (FRN: #CTW1553878) and the authors have no conflicts of interest to disclose.